The Mad Brewers of Mad River Brewery
Brewin' mad brew

Nestled by the banks of the Mad River, in the sleepy town of Blue Lake, lies the Mad River Brewery. It is a place where dreams come true. If your dream is a great beer, that is.

Feeling like kids with golden tickets, we recently toured the brewery, guided by its own Willie Wonka, Dylan Schatz. As the brewmaster at MRB, Schatz and assistant head brewer Brian Brodkorb are responsible for crafting the now-famous brews we have come to know and love, like Steelhead Pale Ale, Jamaica Red Ale, Steelhead Double IPA, and more recently Double Dread Imperial Red Ale, The Mad Belgian Golden Ale, and Serious Madness Black Ale.
Schatz fits into the brewmaster's mold, equal parts craftsman and alchemist, somewhat understated yet deeply proud of his work. And he should be. Among the brewery's multiple awards are a gold medal at the 2007 Great American Beer Festival for their John Barleycorn Barleywine, and a bronze for the Extra Pale Ale at this year's World Beer Cup. They were also named Small Brewery of the Year at the 2010 GABF.
It's not too shabby for a brewery started in 1989 by one man with a dream (and a few investors).The brewery sold 15,000 barrels this year, putting them into the category of "Regional Brewery", and you can grab a MRB brew in 28 states and Canada.
But even though you can get one almost anywhere, the best place to enjoy a Mad River brew is in the tasting room. It's extremely cozy and friendly, and you will get the freshest possible samplings out of the tap. It also sports big, comfy stools and a gorgeous bar. Plus, they offer special brews here that you can't get anywhere else.
Here's what's currently on tap:
Steelhead Extra Pale Ale – The award-winner is light, crisp, and well balanced. Smooth and easy to drink, this is a great summertime beer. Alcohol content 5.6%
Jamaica Red – This sweet, rich, somewhat spicy beer gets its name from its deep reddish color. Bring this to your next BBQ. Alc. content 6.5%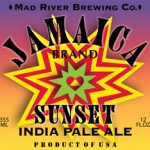 Jamaica Sunset IPA – Pouring a beautiful coppery color, this beer is still clean and crisp, well balanced yet slightly bolder. Nice finish. Alc. content 7%
Steelhead Double IPA – Bolder still, robust with a lively taste. Full of mouth-watering sensations, this one is a treat for the taste-buds. Alc. content 8.6%
Scotch Porter – A dark, somewhat smoky brew, rich and chocolaty. Scottish peat malt contributes to its unique character. Alc. content 6.5%
Jamaica Style ESB (Extra Special Bitter) – This is an English-style bitter that has a lively flavor. Smooth with a buttery pop to it. Alc. content 5.5%
Steelhead Extra Stout – This dark brown/black beer seems surprisingly non-pungent at first. A sip reveals a rich, smoky, almost coffee-like flavor. A beer that could sustain you through the winter. Alc. content 6.5%
Doppelbock – This light brown, sweet-smelling brew starts out light but comes on with an amazing, fun flavor. A new favorite. Alc. content 9.05%
Fleur de Jamaica – This is a bubbly, reddish-pink brew that looks like soda. The hibiscus flavor is not overly sweet, however, just slightly floral. Very refreshing. Available only in the tasting room. Alc. content 5.6%
Saison du Humboldt – This beer is the product of collaboration between five North Coast Breweries. Light yet complex, there is an initial burst of flavor that lingers throughout. Very nice. Alc. content 7%
Double Dread Imperial Red Ale – This hopped red has a vibrant, smoky flavor. Similar to the Porter but with a favorable kick. Alc. content 8.6%
Bourbon Stout – This is a dark black brew, rich and flavorful, full of coffee and caramel flavors. Try over vanilla ice cream. This one can also only be gotten in-house. Alc. content 7%
Drink one soon, and when you do please take a moment to silently toast the man behind the beard, brewmaster Dylan Schatz, and his crew. Without them we'd probably be drinking Oly.
The tasting room is open Monday through Thursday 1-9 p.m., Friday 1-10, Saturday 12-10, and Sunday 12-8.
Happy hour is every day from 4-6 and features $2.50 pints.
For a calendar of events and more information about the brewery, including tours, you can go to madriverbrewing.com